The series aims to showcase the empowering influence of faith, while also emphasising the unwavering resilience and inner strength found within individuals when confronted with adversity.
The upcoming streaming series 'Sarvam Shakthi Mayam', which stars Priya Mani, Sanjay Suri, Samir Soni, Ashlesha Thakur, Subbaraju and Abhay Simha Reddy in pivotal roles, will present the story of an atheist writer and a dysfunctional family. The trailer of the series was unveiled on Wednesday.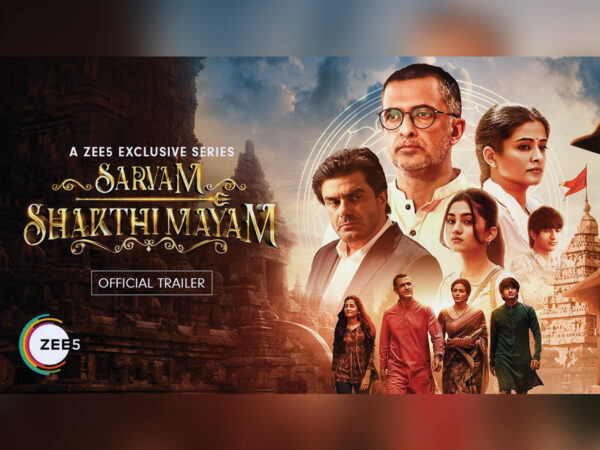 Directed by Pradeep Maddali, the 10-episode series follows the personal journey of the writer and dysfunctional family as they embark on a pilgrimage to visit all 18 Maha Shakti Peeths. There are 18 places, called Ashta, Dasa which were created by Lord Shiva.
Sanjay Suri said, "Without a doubt, I must say playing this character who goes through his journey with a beautiful awakening of sorts was something I absolutely loved. A journey that brings about inner clarity for the character during challenging times was very well conceived by the writer and makers."
As seen in the trailer, Madhav Suri (essayed by Sanjay Suri) is a middleaged man who was once expected to make big but is now bound to challenges due to his urge to be successful in life. He is married to his love interest Priya (essayed by Priya Mani) but is always looked down upon by his fatherin-law due to his failed ventures.
Throughout their journey, they encounter divine interventions in nature that help them resolve their battles, forming the central theme of the story.
Priya Mani said, "Playing this character Priya has given me an in-depth sense of how different sides of love exist and how beautiful each of those are. The role has given an opportunity to explore multiple layers. Can't wait for the audience to watch our journey. It's a beautiful portrayal of a dysfunctional family and I am sure the audience will relate to it."
'Sarvam Shakthi Mayam' will be available to stream on ZEE5 from June 9. IANS
Credits: punemirror