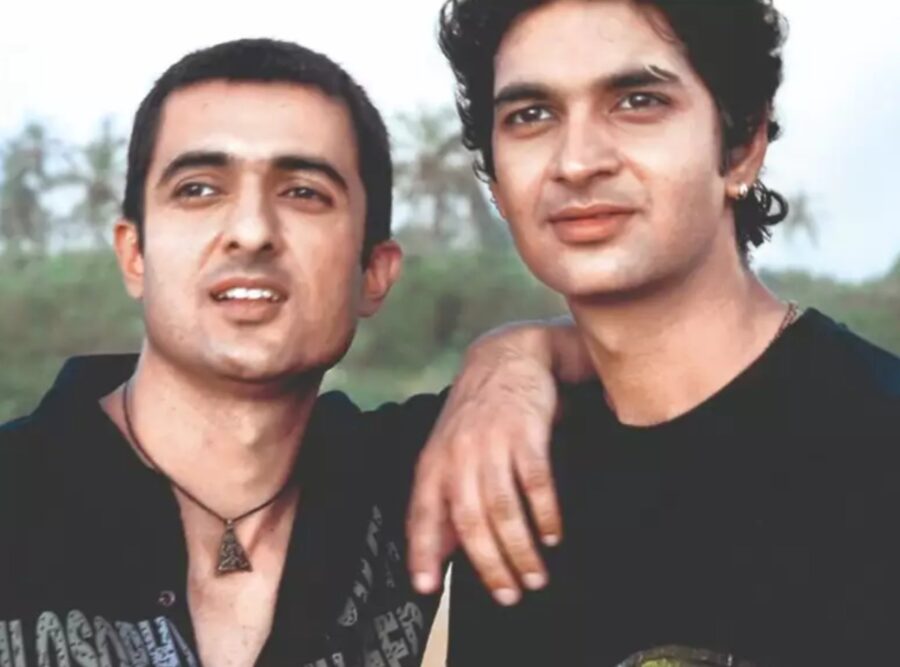 At a time when homosexuality was rarely mentioned in Bollywood films and same-sex relationships were not a part of the mainstream narrative, Sanjay Suri and Purab Kohli dared to take on the film My Brother…Nikhil. The 2005-film, which portrayed the story of two gay men, also touched upon the subject of AIDS. The movie directed by Onir always wins a special mention for putting the spotlight on same-sex relationships. In the ongoing Pride Month, we catch up with the film's lead actors, Sanjay and Purab, who speak about being a part of the film and the kind of appreciation they received from the audience and gay community. Excerpts:
My Brother…Nikhil was made at a time when homosexuality was not a part of the mainstream narrative in Bollywood. What inspired you to take on a film that dealt with such a sensitive subject, and that too, helmed by a debutant director?
Sanjay: The first time I met Onir was when we were shooting for Daman: A Victim of Marital Violence (2001). He was working on the film as an editor. When Kalpana Lajmi, who was directing the film, had to leave the set for a day due to an emergency, she gave Onir the responsibility of managing the shoot. We all were happy with his job. I asked him to come up with a script, which I could produce. That's when he showed me the script of My Brother…Nikhil. I was moved by the writing. I thought the story needed to be told, so I offered to co-produce it. As for acting in it, I didn't think twice because I wanted the message to reach the audience. However, I was warned by many people who felt the film would finish my career. Frankly, such talk encouraged me to explore the subject more.
Purab: Initially, I was sceptical about taking up the project because just before I was offered the film, I had shot for Luke Kenny's first directorial 13th Floor, in which I played a gay character. So, I took some time to read the script. It was so fine that I gave the nod immediately after reading it. I am glad that I did a film like My Brother…Nikhil. It happened at a time when I was enjoying my career as a VJ, but this movie made me realise that I should focus on acting as a career.
Was there a lot of research and prep involved to get the nuances of your characters and relationship in the film right?
Purab: To begin with, Onir wanted me to play the role of Nikhil, which eventually Sanjay did. For me, Nigel was more of an effeminate character, while Nikhil — a state-level swimmer — was the more masculine one. So, I had to process how I would go about playing this character. I was very young when I played this role, and I often drew references from my mother's friend, who was gay. While shooting, there were certain activities that Onir introduced me to, which helped me portray Nigel better. For example, to understand the creative side of the character, Onir got me a lot of plain T-shirts and asked me to paint them. In fact, many T-shirts that I sport in the film were painted by me.
Did you concentrate a lot on how the relationship between the two of you would unfold on the screen?
Sanjay: Actually, it all happened very naturally. We didn't rehearse much. It was so organic that if Onir had added a kissing scene or an intimate scene, I would have been comfortable doing that, too. However, we didn't keep any such scenes as we didn't want them to take away the focus from the issues that we wanted to highlight. For the same reason, in the film, we haven't shown how Nikhil contracts HIV.
Purab: Sanjay and I were like two ingredients that blended well and that made our relationship seem real.
The film received a lot of appreciation from the critics, what kind of reception did it get from the gay community?
Purab: I remember we had hosted a special screening for the members of the gay community, who appreciated the film a lot and were emotional when they saw it. Probably, it was for the first time that they felt that they were being represented in the right manner in our cinema. Personally, I felt proud when my uncle appreciated me for doing this film. It came as a surprise as I wasn't sure about his thought process and was sceptical about his reaction. More than the theatrical release, we got a lot of attention when the film premiered on TV many years later. In fact, today, it is available on an OTT platform, too, and I am happy that we have the younger generation watching it.
Sanjay: We had also invited HIV positive patients for the screening, as the film also dealt with that subject. After one of the screenings, a lady met me and said, 'Thank you for making this film as it helped me understand my daughter better, who I lost to AIDS 10 years ago'.
Did the film make you popular with the gay community?
Sanjay: I remember when I was walking the streets of San Francisco with my wife, I had a couple of men screaming, 'Hey Nikhil, I love you'. At that time, there were no social media, but my website had gone live and there were so many messages I received from gay men. Some of them were surprised and even disappointed that I was straight in real life and married to a woman.
Credits: timesofindia.indiatimes