From My Brother… Nikhil to Shab, filmmaker Onir and actor Sanjay Suri's partnership rests on trust and a shared sense of cinematic aesthetics
At the dawn of the new millennial, filmmaker Onir and actor-producer Sanjay Suri met each other on the sets of Kalpana Lajmi's Daman (2001) in Assam. Suri was acting alongside Raveena Tandon and Onir was signed on-board as the editor. During the shoot one day, Lajmi had to make an urgent exit. With a scene, involving six actors, left to be shot, the crew was losing daylight at a rapid speed and there was a whiff of panic in the air. "Kalpana immediately asked Onir to step in. He was called Anirban then" chuckles Suri. Lajmi handed over the directorial mantle to Onir for the day. "He executed it so well that I remember discussing with him a couple of days later that he should be a director," recalls Suri.
Over consecutive days of discussion, the two realised that their sense of aesthetics, storytelling and taste in cinema was compatible. Finding support and encouragement in Suri, Onir wrote several scripts and pitched them to various producers but none materialised. Four years later, in 2005, Onir finally made his directorial debut with My Brother… Nikhil (2005), casting Suri in the titular role. This was the fifth script he had written. "Anyway no one would have had to guts to make it," declares Onir, who decided to independently make the film with Suri, without the backing of a producer. "Initially when we took the script to some people we got some very idiotic suggestions," recalls Suri. "Like why don't you cast Yana Gupta?," chortles Onir. "Or cast Bipasha [Basu] to play his lover. We said the character is gay, so there is no lover!" exclaims Suri, as Onir continues to laugh.
Over the last decade, Onir and Suri have consistently collaborated over various films like Sorry Bhai! (2008), I Am (2011) and Chauranga (2015). The release of their latest collaboration, Shab is around the corner. We meet the two at Onir's apartment in Versova to discuss the film, which also marks Onir's return to filmmaking after six years. The minimally decorated apartment – with plants and modern art works including a print of Pablo Picasso's Girl Before a Mirror – is abuzz with discussions on the post production of Shab. Much like with their earlier projects, Onir and Suri have made the film independently, without the backing of a big producer.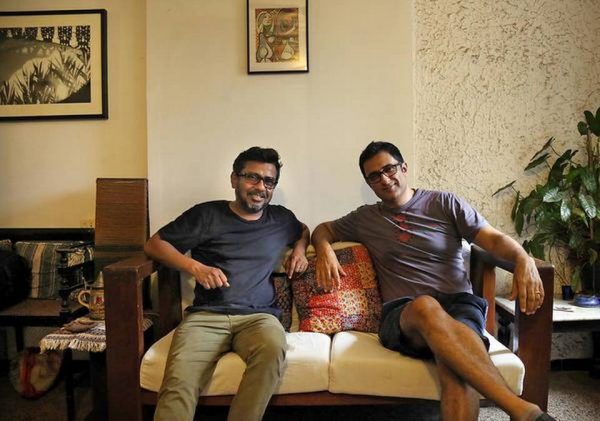 Interestingly, Onir had written Shab even before My Brother… Nikhil. "The reason why it took so long for us to make this one is because it requires a certain kind of scale and canvas we didn't have back then," explains Onir. "So we made that [My Brother… Nikhil] instead, because it has a raw core," adds Suri.
Both Onir and Suri find it difficult to articulate what Shab is about. After some contemplation, the duo says that it's a film tracking the emotional journey of various diverse character in Delhi, a melting pot of a city. "But it's a film better experienced than explained," says Suri, while Onir nods in agreement.
Conflict resolution
More than a decade-long partnership is bound to be infiltrated by conflicts and disagreements. By Suri and Onir's admission, they face conflicts all the time. So how do the two resolve it? "It doesn't need to resolve," shares Onir. Then how do they reach a consensus? "We don't. Either we go with his belief or mine," explains Suri. The two recall a time on the sets of Sorry Bhai! when the two fought so bitterly that the crew was convinced that the shoot would be stalled indefinitely. "By the next day, it was all fine," grins Onir.
What's irreplaceable and paramount for the two is mutual trust, a quality they claim to share in abundance. Suri and Onir say that they understand each others' vision clearly and their roles are well demarcated. "In a collaboration, you can't be entirely democratic," explains Suri. "It's democratic up to a level but ultimately it's only one person's vision". The two claim to understand and agree with other person's vision, making the process trouble-free. When Onir is directing or editing, Suri often provides value additions that make it to the final product. "Besides, if I understand his vision well, I am not going to sell a swimsuit to someone who is climbing a mountain," jests Suri.
Funding a film
The duo has produced and self-funded Shab under their banner Anticlock Films, but for their earlier projects, like I Am, they sought crowdfunding to raise capital. The 2011 film later went on to win two National Awards. "It was a very rewarding experience," recalls Onir. But they have refrained from crowdfunding a film after that. As gratifying as the process maybe, it's also an arduous one. "At the end of it, a huge amount goes in taxes," reveals Suri. "And dealing with people is another hassle. They ask us if they can come see the shoot," he sighs. "We'll be invisible, they assure us," adds Onir. "So we asked them, if you give money for a surgery do you also insist on being in the operation theatre?" says Suri wryly, as Onir chuckles on.
The duo desists from a traditional studio model of making a film, in order to exercise greater creative control. This is reflective in the subject of their films – which are seldom explored in Hindi cinema – like homosexuality, the taboo and stigma attached to HIV, loneliness of queer lives, casteism and sexual abuse. But the two distance themselves from calling their films 'issue-based'. "We don't sit down and say, 'These are the ten things the country needs to address today and we'll go one by one'," says Onir, adding that My Brother… Nikhil or I Am was more about people than social issues. "With Chauranga, we never thought it was a Dalit film," chips in Suri. "It's the story that's the driving force [in our films], not sexuality, disease or gender," asserts Onir. "Or else we'd be making a biopic… or a sports film because that's what is selling these days," he jibes.
Down the festival road
Independent filmmakers and producers often bank on film festivals to generate a buzz around their films, but Suri and Onir say that their films are not 'art house' and tailored for festivals. "When we made My Brother… Nikhil, we had no idea how film festivals worked," recounts Onir. It was only when invited, that the two screened the film at various festivals. Later, Onir received a call from Cannes Film Festival asking if they could premiere My Brother… Nikhil. "But by then the film had travelled everywhere," laughs Onir. However, Suri and Onir find solace today in the fact that the film is still being screened at various events and festivals. "Recently we heard they screened it somewhere in the U.S.," informs Onir. "It's great to see that 11 years on, the film still has a life of its own," adds Suri. It's a feat that Onir and Suri hope to replicate with Shab.
Credits: thehindu.com