Been called for a shoot ? No no it cant be….its all shut and locked down, i might have been dreaming of a shoot and if it wasnt a dream, it means we are already in a post pandemic time. Wow! thats amazing. Will dive straight away into it!  I need to get back to my continuity to maintain a pre pandemic look, so the character needs to look the same. Well, that should be easy. Just go to a salon for a hair cut, I dont color may hair unless needed for a look so thats taken care of, go for that cardio workout so i can fit into those jeans,  some costume trials again, a reading with the director and actors and I am good to go!
Ok wait ! Wake up. Think but don't over think because its quite simple to see the reality unfolding. Even if the lock down was over, that haircut or that grooming will need a human touch, infact all of it will require a proximity that defies 'pandemic practices', so obviously there is no shoot coming along for now and for how long are we in this is anyone's guess. Yes, health first and everything later!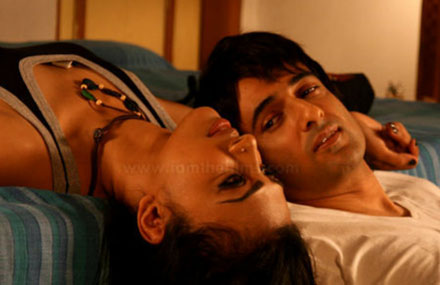 A still from I AM
A short recap here. I had released the Oscar nominated French drama 'Les Miserables' on 13th of March and just the day before Delhi announced the temporary closure of movie theatres, soon other states followed and by Sunday March 15th, it was the opening weekend of shutting down! Yes it was necessary and I fully support it, however I didn't have any time to hold back the release of our film as our release orders had gone out. Some very big films that were scheduled to release in the coming weeks could take a timely decision and were postponed, sensibly so! Of course their losses might have been huge and for the entire motion picture industry at large like other industries and individuals the impact is being felt massively. Daily wage earners are badly hit! But this is not so much about the economic impact on an Industry that hardly gets any mention in any Union Budget anyhow, where writing poetry can attract Goods and Services Tax. This is more about how the next few weeks or months of creative distancing pan out while executing content that feeds the films, TV, advertising, digital media, live events, cinemas, radio, film festivals, etc.
What could possibly be the impact of distancing in a creative field like audiovisual story telling? The data will surely be worked out by consultants in the M&E (media & entertainment) sector but speaking from the perspective of the creative process, filmmaking has always been a collaborative process and an intimate affair! Writers have always had a lonely job sitting somewhere writing beautiful stories but perhaps the inspiration comes from that intimate feeling of knowing and creating characters. But now, the same can only manifest if there is possibility of proximity in the post pandemic era. The entire process of filmmaking is intimate. We shoot films with a crew of an approximately 50- 200 people at one place, be it a studio or an outdoor location. Readings and rehearsals are workshops to delve deep into the nuances of characters. An actor gets into the skin of a character while makeup artists skilfully work on their look, the costumes are worn and taken off regularly, we jam to music sessions, we record together, the dancers, the fighters, the spots, the lighting, the sound, and when the director calls for 'action', it's all experienced with a rhythmic intimacy between the self and the other!
Yes there have been POV (point of view) films, 1 or 2-member crew, or go-solo kind of films but that's not how the media and entertainment industry survives. Perhaps we will see a lot of them and DIY films in the near future, as cinematic intimacy will take time to return.
My friend Onir and I had invited individuals to send 2-minute films as part of a contest during this 21-day lockdown maintaining all distancing guidelines. It was absolutely refreshing to see as many as 50 entries in a short span of time made with minimum resources and while maintaining social and creative distancing. These were written, shot, enacted, edited and submitted. That's the power we will need to depend on in coming days. One of them can be seen here :
In the post-pandemic world, a film set could look very different from how it used to be. Imagine checking your temperature before entering a set or carrying your test reports and indemnifying before signing on a project that you will protect yourself and others. Wait! Let me hold your hand with gloves on or you can cry without being hugged, a kiss without the lips! Going to a theatre, sitting on alternate seats with masks on in a dark room with 3D glasses can be scary itself!
I know all this may look gloomy, but it has also been known that the entertainment industry bounces back the fastest in times of recession, it being one of the cheaper ways to engage and entertain people. Even right now the OTT and linear feed consumption of content is possibly very high with people catching up on their favorite series or discovering new ones. Popular shows on TV are being telecast again and doing well with the TRPs. While many thought there was too much content available and selection was becoming difficult, I am sure the broadcasters must now be thinking where will the new content come from unless it's already shot, in post production or in an available catalogue.
The content supply chain will be affected like any other in the weeks to come. While your mobile & TV sets are the ones that you can engage with, its the theatres that offer you the magical experience that we all are going to miss for sometime. It's anybody's guess when will they open and under what kind of guidelines.
All predictions by experts on M&E sector have probably gone haywire. Do read this report that quotes,"2020 estimates have been created prior to the advent of the coronavirus and we will update the same once we are in a position to quantify its impact."  https://www.google.com/search?source=hp&ei=2xaQXqD8EczVz7sP2Y-ZyAg&q=ficci+media+and+entertainment+r  Calculating the impact will be a task for many consultants.
In another part of the world the German Culture Minister said, "The creative courage of creative people can help to overcome the crisis. We should seize every opportunity to create good things for the future. That is why the following applies: artists are not only indispensable, but also vital, especially now". Germany has rolled out a staggering €50 Billion aid package for Small Businesses that boosts Artists and Galleries—and puts other countries to shame ( artnet.com ) It is obviously unthinkable here and in many countries where food, shelter and healthcare is a struggle for a large section of society.
The fact of the matter is, whether we ever get any support from anywhere or not, whether there is any vision for the industry or not, the Indian filmmakers/content providers will continue to be innovative, creative, find new ways to tell their stories even during lockdown like the contest mentioned above that gave space to create. With the least amount of any support from anywhere we are still the largest film producing country in the world.
I am sure writers are writing stories about these times and waiting to pitch as soon as possible and I am also sure many takers would only want comedies now, as the mood will need to lighten up. We all will surely adapt and tell all kinds of untold stories, be it heroic or tragic- reflective of these times and wait for that magic 'action' to be called out again. Eventually it will be back to roll-camera-action but this interval might last longer than your popcorn does!
We will be back as soon as possible even with creative distancing and as Shah Rukh Khan said it in Om Shanti Om, " Picture Abhi Baaki Hai Mere Dost!"
By Sanjay Suri
You can read my last blog on the Health of Indian Healthcare
https://www.sanjaysuri.com/blog/jaan-hai-to-jahaan-hai
Credits: Creative Distancing