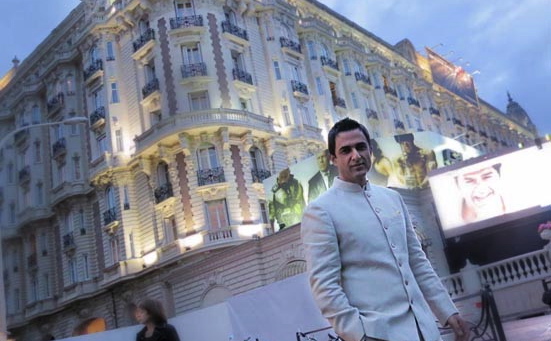 Best known for his role in My Brother… Nikhil by director and friend Onir (who is also his production partner at Anticlock Films), actor/producer Sanjay Suri has been on a whirlwind ride with their film I AM. After winning the National Award in India he's been traveling the world promoting the innovative film. He was in Cannes recently during the Film Festival to talk business with international players for possible co-productions on future projects. Sailesh Ghelani has a long overdue reunion with Sanjay who explains what happens at Cannes (including the cost of a cab ride!), apart from the glamour and the films.
So you didn't go to Cannes to promote I AM…
Onir and I were in Cannes for networking opportunities at a producer's network that happens every year. You're looking for co-production opportunities. There are people from Brazil, China, South Korea and Europe. We were pitching new projects there that we felt would be attractive to co-producers, in particular European because they get tax benefits over there. We had to do some promotions for the release of our French DVD of I AM (read the movie review here) as well.
We know a lot about the glamour and film side of Cannes. Tell us something about the more serious side that people don't know about.
Well there's the market with all these stalls almost like a handicraft market where you're selling your films with your promos and flyers. You'll have an Eros, Yash Raj or UTV sitting there. For the Western world they are mini-majors but for us they are big. You have CII (Confederation of Indian Industry), which hires a space as well.
The one-on-one meetings are all fixed prior to leaving for Cannes. The India Pavilion at Cannes was for the benefit of Indian delegates to have their meetings there. I met a lot of old contacts and made some new ones purely from the production, sales and distribution point of view. It was an enriching experience. But it starts so early that you can't really party late!
How well was your trip organised?
I must congratulate the French Consulate and the French attaché handling it all. They were extremely helpful. There's a provision for everyone going to the festival to see that things go smoothly. It's so refreshing to see that it's their event and they want things to be organised so they can get you there.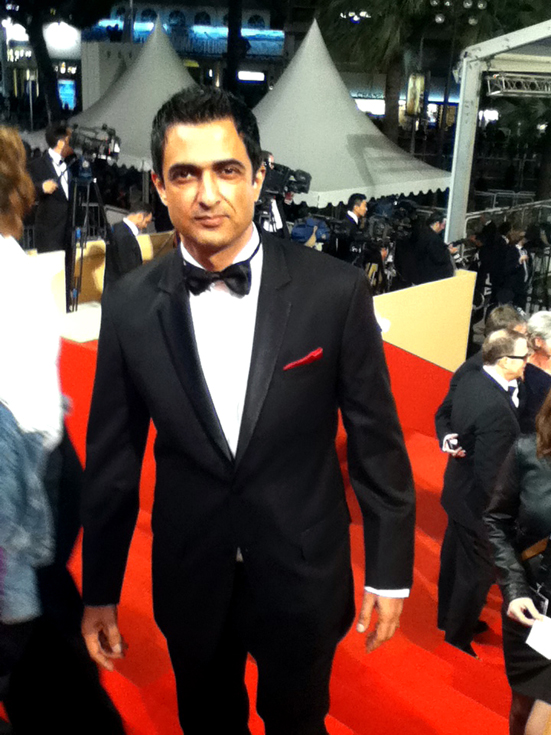 On the red carpet
Was it an overwhelming experience?
It was exciting for Onir and me. We didn't have a film in competition. But we were excited for all the other Indian filmmakers. After a long time there were three Indian films, one in Un Certain Regard (Miss Lovely), one in Critic's Week (Peddlers), one in Director's Fortnight (Gangs of Wasseypur). It feels cool, the vibe was very positive. There were other delegates there too like Umesh Kulkarni who won the Best Feature Film Award at the National Awards for Deool (Marathi). There was lots of presence from Indian cinema, not Bollywood (Laughs) but Indian cinema and regional presence as well.
What's the first thing you noticed on your trip to Cannes?
So we land in Nice and it's a half-hour cab drive to Cannes from there. And you pay almost 90 Euros for that. So it's like going from Bandra to Worli and you're paying like Rs 5500/-. It's bloody expensive. You get a very basic hotel room for 200 Euros. And it's bed and breakfast but breakfast will be like one croissant! But people want to be there so you budget for that. Accommodation was free for one of us, not both.
Did you get to watch a lot of films at the Cannes Film Festival?
Unfortunately, I didn't watch too many films. I just watched three films. You can only do that much in Cannes. Either you work, or you party or you watch films. It seems fun but it is a lot of work. I watched Miss Lovely and Peddlers.
What did you think about Peddlers?
I liked the film. I loved the way it's been shot, the acting and the story. You can't tell it's a first time director's (Vasan Bala) film. It's mature and artistic. I didn't get to see Gangs of Wasseypur though.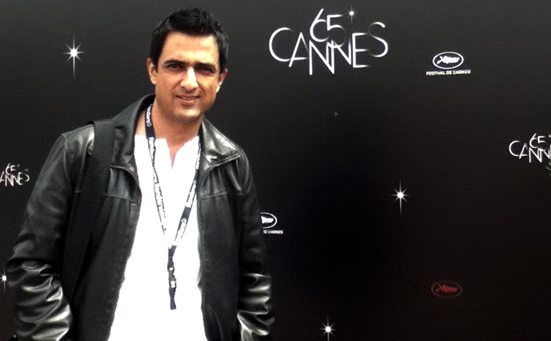 Working day in Cannes
Were your meetings fruitful?
We're already in talks with co-producers from France and Germany for our next slate of films. The process is a bit slow because they don't make that many films in a year. Our co-producers who helped release I AM in France are interested in Onir's Shab (Night). NFDC is already a co-producer on Chauranga and we are talking to a German co-producer as well. We've also been selected for the Paris Project. It's a concentrated three days of pitching to French co-producers.
A lot of people ask why co-productions. Is it all about money?
No, it's not about money. It's about a Spanish guy coming and wanting to release a Marathi film in Bombay. If he aligns with a Marathi producer he would get to know the insights and inroads into the independent space in that region. So they'd get an understanding of the Indian market. This helps if they have an Indian element in their film and vice versa it helps us if we have say a French element like a location in France in our film. You may have foreign crew working on your film too.
Tell me something about your journey of I AM right up to the National Award…
For me, I AM (movie review) has been much more than a film. The whole process of learning and un-learning has been a journey. And then it went on to win a National Award. In I AM I just acted for 7 days and it's been a two-year journey! People ask me if I'm tired of the journey. I'm not, because I'm seeing the possibilities. More often than not you're written off at the opening weekend.
I AM didn't do well at the box office…
We're still in the process of making up our money but considering the nature of the film I think we did well. I see the film breaking even any day now. When you're making a film like this, of course you don't want to be suicidal and run into losses. The starting point was that we wanted to tell these stories and how do we do it. It's like you have an idea and the means followed.
The crowd sourcing…
Four hundred people joined us in making the film after asking for help on social networking sites. We got a decent theatrical release without Media Net and paying for promotions. Now I think the National Award has given us a lot of validation. Because somewhere you lose energy on your path, and that was beginning to get to me and I started thinking that maybe my next project should be a designed commercial film.
And then that changed of course.
We didn't think of applying for the National Award since we didn't think it would happen, considering My Brother… Nikhil didn't even get a mention anywhere. There was cynicism. But after the award I was just energised. So was Onir. Now with a bit of wisdom and experience we can forge ahead.
And you're using Social Media again for your next film Chauranga and its poster designs…
We wanted to democratise that process by allowing people to design posters for the film and people on Facebook could vote on the best one. We're doing that with music as well. It's giving an opportunity to talented people who have that hunger. Times are great for things like this but you need to shout a bit because it's a crowded place now.
Is crowd sourcing and social media good for everyone or only people like you?
There was a lady in a panel discussion who asked me it's okay for someone like me to get people to do things for free and get funding but what about people like her. So I told her just go out and start and you'll get it. And they ended up releasing a documentary in theatres. There is an audience who wants to watch different cinema. I think entertainment companies should collaborate with IT companies. If a kid in Jharkhand in a village wants to watch I AM or I Am Kalam but it's not playing there, if he has a mobile make it available to him same day release on his phone. That monetisation process is not there.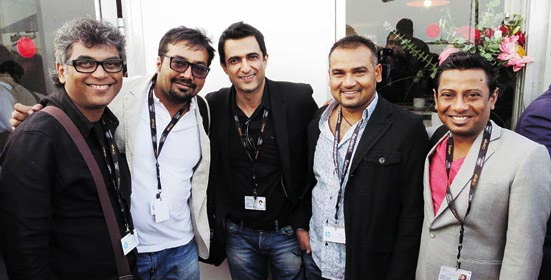 L-R: Suman Mukhopadhyay (director of Herbert, Best Regional Film, National Awards 2006), Anurag Kashyap, Sanjay, Nila Madhab Panda (director of I AM KALAM), and Onir
"The mainstream is not mindless anymore," said Anurag Kashyap in an interview. Even CEO Siddharth Roy Kapur says, "Cinema that was never considered mainstream earlier is now considered mainstream." Do you agree?
The lines are getting blurred but I don't want to draw boundaries. If you have a film that's mainstream and a Gangs of Wasseypur releasing in the same amount of cinemas then what's the difference? I think the user base of mainstream is huge in India, which is why you can see figures like 150 crores. So mainstream needs to be more clearly defined now. Gangs… is a big film, with a big director and big studio. It's driving on big talent. The producers are going with confidence so it becomes mainstream.
Did you see any celebrities in Cannes?
I saw Palme d'Or winning director (The Wind That Shakes The Barley, 2006) Ken Loach. I saw Anurag Kashyap, I saw Onir (Laughs).
Any advice from Anurag?
No, I wasn't seeking any and he wasn't giving any. But it was good to see a chat that Rajeev Masand had with Anurag Kashyap (Gangs of Wasseypur), Ashim Ahluwalia (Miss Lovely) and Vasan Bala (Peddlers). It was interesting to see what these three directors had to say. One thing that came as a surprise to me was that they don't work with a bound script. They said they just make up films, and I didn't know that.
Yes apparently they didn't have a script on Peddlers, there was a lot of improvisation…
But they credit a writer don't they, so what does he write? Unless they have a story and not a screenplay? I guess it works as long as the director is very confident because a written script can also go wrong. Is it just cool to do a film without a script? I find it good to know that there's a written script. I'd like to know how they do it. When you're dealing with so many people on a set it could go either way. I think their intent was that they don't want to bind the actors to a script but I still wonder how you can shoot a film without one. Because these are all well made films. I'm gonna ask them how to do it.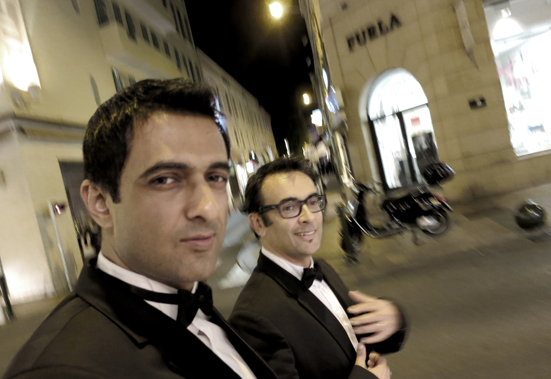 Sanjay out on the town with brother/business partner Raj Suri (Kahwa Entertianment)
Tell us more about your Cannes Experience
The Incredible India party was the talk of the town; everybody wanted to be there. It was like art house dancing to Bollywood numbers. I think I saw Harvey Weinstein walking in and then he disappeared. That would have been quite a top 10 pitch; though I would have pitched as an actor not a producer (Laughs).
Lots of umbrellas in demand since it suddenly started pouring. But they were the worst umbrellas I've ever seen. It lasted 5 minutes in the wind. The next day the sun was out, so that was all right. Oh and I ate Armenian food, which I had never eaten before.
What was strange was the American Pavilion. They'd charge 100 dollars to a delegate to get in. I think they're the baaps (fathers) of capitalism. Even American delegates had to pay.
What about the famed red carpet…
The red carpet only happens for films in competition. If you want to attend you need to let them know and you get a badge. Now you get points on that badge for the number of films you watch. So if you miss films and you waste that pass, which means an empty seat, then you lose points and they take that into account the next time you want one. So very organised.
And for the artists who have performed in the films, they make them stand up on stage and they clap for them before the film. You feel so special about that. And after the film they give you an ovation. And I heard, I'm not sure, that someone is measuring the length of the applause for the reviewing committee. It's not official but I've heard that.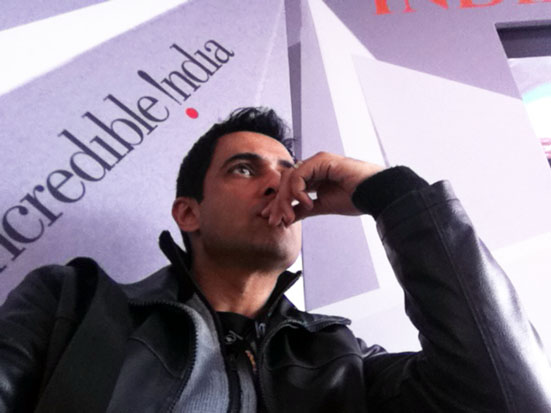 Ruminating before a pitch
In our last interview you had talked extensively about your experience in Kashmir and the trauma you faced. Does that still haunt you and do you think the situation is any better today?
It does not haunt me but it does not leave me. It stays with me but I'm not as bitter as I was ten years ago. Things are improving but people who moved out 22 years ago, how feasible is it for them to go back to the Valley. Everyone I know wants to be able to go back and have one foot there. Once I have the resources and some films do well I would love to rebuild my house there. I want my kids to see that life. Like when I was a kid I didn't need a club membership to learn swimming there. You just dive into the lake and enjoy yourself. I'm dying to teach my son how to ride a bicycle in Mumbai but there's no green patch. So he keeps falling on concrete. We have all these Nana-Nani (grandfather-grandmother) parks and I don't understand why only senior citizens can use them. Where are kids supposed to play football or ride a cycle?
Do you ever feel like packing your bags and running to Delhi, where you're from originally?
Delhi has different challenges. I love the energy of Bombay but it's just that there's no planning and there are too many of us. We are to be blamed too, we came here. Which is why my production company is trying to decentralise the film industry (Laughs). Our publicity designer is sitting in Jaipur, our actor is coming from Jharkhand, our musician is coming from Kolkata, and we're selling the films in France!
Have you seen Aamir Khan's new TV show Satyamev Jayate?
No, I've been travelling. Apparently the first few issues were I AM type issues about female infanticide and child abuse. I believe the shows are very popular. Coming from a big star I guess it should help.
What's next on the work front?
There's another film we're pitching and it's called Coach Kameena, which is a working title. There's also a comedy and a thriller, which I'm developing and this is the first time I'm actually talking about them.
Marilyn and Sanjay in the same frame… finally
How does Sanjay Suri unwind?
Being with my kids Aryan and Aditya is a good time for me. I'm excited to act in Chauranga. I'm enjoying the anticipation of all these films. What I want to do more is some trekking and backpacking. I'm looking to buy a kickass DSLr camera and hit the mountains. I almost started planning a film around it but then I though the whole charm will go. Maybe I'll plan something in August. You coming? (Smiles)
Perhaps. I need a holiday! Do you like clicking a lot of pictures on your trips?
There used to be a time I wanted to capture every moment on camera but now I just want to enjoy the moment. People are so caught up taking pictures for Facebook or BBM at parties and dinners that they just miss the moment. A while ago I told someone who was on their phone that they obviously aren't enjoying themselves. So now I just want to savour the moment.
Credits: minority-review.com