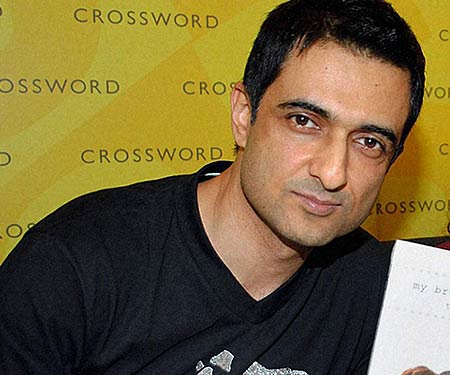 From collecting funds on social networking sites to convincing actors to work for free, actor-producer Sanjay Suri says he had to go through a lot to make 'I AM'.
What is 'I AM' all about?
'I AM' is a fusion of four stories where the protagonists share a common dream — a desire to regain their lives and identity. It's about betrayal, issues and dilemmas that bruise the modern Indian society. 'I AM AFIA' is the story of a single woman and her decision to experience motherhood without the burden of a man. 'I AM MEGHA' is a story of two friends — a Kashmiri Pandit woman and a Muslim woman — separated by conflict against the backdrop of the mass displacement of Hindus in Kashmir in early 90s. This story is about loss of home and identity. 'I AM ABHIMANYU' is the story of a broken man, with a proud mask. Abhimanyu is trapped by the demons of his past, a past of sexual abuse. 'I AM OMAR' is a horrific tale of sexual discrimination; blackmail and prejudice are part of the torrid fabric. It reveals how the police use Article 377 (law under Indian Penal code that criminalises homosexuality) to harass and blackmail gay men. I play Abhimanyu in the film, a documentary filmmaker — someone who is fighting hard to deal with his past.
What do you think of Onir, the director of 'I AM'?
I think he is a very talented and wonderful human being with his integrity intact. We met long back on the sets of 'Daman'. That was the time when we discussed the kind of cinema we wanted to be a part of and create. We made 'My Brother Nikhil' together and today we continue to make films together. I respect him as a professional but we argue and fight a lot, but at the same time respect each other's creative decisions.
There were reports that you had to collect funds for this film on Facebook…
'I AM' is probably the biggest crowd-sourced film where we have also sourced talent, volunteers, crew and also a bit of funding to have a true democratic process of filmmaking. I call it democratisation of filmmaking. We mainly used social media platforms and our own database that we had from 'My Brother Nikhil' to make this happen.
Is it also true that one of the stories in the film is based on your real life experience?
Well, I think it's every displaced person's story and this particular one is in context to the mass displacement of Kashmiri Hindus in early 90s. It could be anyone who was once uprooted from his home for no fault of his. It's a story of loss, identity and revisiting one's own past.
The film marks the acting debut of Anurag Basu. How did that happen?
I guess it's the Bengali connection with Onir.
You recently said in an interview that you like the feeling of ownership. Are you thinking of turning into a full-time producer?
No. I am first an actor then a producer, but I do like the feeling of ownership. Many a time I have seen when a film does well, everyone claims ownership of it but when it's a disaster, people try to evade and pass the buck. I don't like to run from responsibility. I don't fear putting my neck out where my mouth is. I love acting and it's therapeutic for me. Production happens when I see no faith in others for the kind of stories I want to tell or be a part of.
As an actor, do you miss being a part of the A-list camps in Bollywood?
I don't believe in camps, so there is no question of missing any. I do wish to work with a number of directors and I'm sure they will someday too.
What would you like to say to those who think 'I AM' is made for festivals and not for commercial success?
'I AM' is aimed at anyone and everyone who likes to watch films that offer diverse subjects and engage them without taking them for granted. 'I AM' is a film that will respect its audience. It's not aimed at an audience that only enjoys mindless entertainers.
Why do you think small budget, good films had to get recognition abroad before it can find distributors in our own country?
Normally key international film festivals select films before their commercial release. Secondly, distribution cannot be always blamed. It's a mix of everything that decides the fate of a film — the kind of buzz the film generates, media support, audience anticipation and the quality of the content. Hence I really cannot pinpoint one single thing. But yes we can say that 'My Brother Nikhil' won many awards in the international space but not even one nomination in our country.
Credits: expressbuzz