Sanjay Suri and Onir are back with another offbeat venture — Chauranga. They along with director Bikas Ranjan Mishra and actress Tannishtha Chatterjee talk about their latest film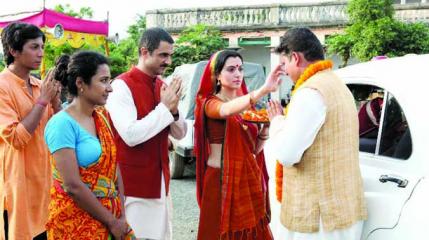 Sanjay Suri and Onir have had a long standing association ever since they successfully collaborated for their first film together—My Brother Nikhil. Sanjay is known to be extremely choosy about the films he picks and Onir's choice of subjects has given him a distinct voice as a filmmaker. The two are now back with yet another off-beat venture titled Chauranga. The film stars Sanjay Suri and Tannishtha Chatterjee in lead roles, has been produced by Onir and directed by Bikas Ranjan Mishra. In a chat with us, they spoke about the film, their liking for oddball cinema, battle with the censors and more. Excerpts: 
What makes you go for offbeat projects? 
Sanjay: I grew up watching such cinema, I like films that educate. I don't prefer to leave films at the theatre.
Onir: I grew in Bhutan watching such cinema. In fact, my mother is a huge cinema lover. When I moved to Kolkata, I was exposed to Bengali and world cinema. It is never a conscious effort. I never see myself making a 'product'. I like to tell stories, not to preach them.
You have been associated with Onir for so many years. How has the journey been?
Sanjay: It has been 11 years. Even though there is the regular clash of opinions at times, we like each other's body of work. He is like a family to me.
Onir, what is so special about Sanjay? 
Onir: I met him on the sets on Daman and we became friends. He told me that I should write. He has always showed trust in me. We bond so well that we haven't even signed any document while launching our production house. The trust keeps us going.
How did the casting of Chauranga happen?
Sanjay: When I read the script, I thought it should be made. I wasn't producing the film to act in it. The way my character Dhawal is written appealed to me. Chauranga is a visual film with hardly 25 per cent dialogues. And, for a change, my director asked me not to hit the gym. (Laughs).
Bikas: Onir suggested Tannishtha for the role of a Dalit woman, called Dhania. He saw her act in Brick Lane and was impressed. I didn't know her and our first meeting at a coffee shop was a little funny and awkward. 
Is it true that you had a tough time shooting the film?
Bikas: Initially I had tried to shoot the film in my hometown in Jharkhand. But the sensitive-Naxal-affected areas were a safety hazard. So we had to rethink the location. Since the raw landscape of the land was important for the set up, we zeroed in on Odissha and some parts of Bengal. Then Bengal too had to be scrapped, due to union issues and the rains played truant. So finally we shot in Odissha.
We heard you were upset with the censor board's approach to a crucial lovemaking scene in the film?
Sanjay: A film with an A-certificate, it is bound to be for adult viewers only. Who are these people to refrain us from showing our creativity on celluloid? Films like Bahubali where people walk around with their heads half cut get a U/A certificate. I don't want my child to see such violence. It is about how one interprets. The scene you are talking about was a crucial one, but the board wasn't too pleased and have asked us to chop it. We will release deleted scenes online.
Tannishtha: I have always suffered. Artists have been fighting for long now. We stay in a liberal democratic country but we are the biggest hypocrites. My latest release Angry Indian Goddesses also had many beeped words and cuts unlike Hate Story 3 that included many cuss words. 
Bikas: These things are subjective. When bigger producers back bigger stars, they still manage to release the film on their own terms to an extent. In our film, the making out scene featuring a zameendaar and a Dalit woman was essential to the plot. 
Do you think films like these need a more commercial push? 
Sanjay: The audience is niche but there is a larger niche. Distribution of such films is a problem, but there is a demand. Metro audiences are slightly changing. There is always a huge queue at the festivals screenings even when they are paid.
Onir: Distribution and publicity is the problem. The support of a bigger producer makes a big difference. My concern is why a Chauranga ticket is priced the same as that of Dilwale, when I don't need to recover that much.
Credits: asianage