He longs for mountains and spirituality. He can churn out the best vegetarian dishes. He also goes in for off-beat films and new directors at possible commercial success. <145,4>RANA A. SIDDIQUI gets to know more of Sanjay Suri, a warm, level headed actor in Delhi this past week…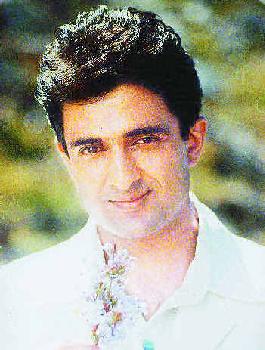 DEEP WITHIN he is a traditional boy. The kind of soft-spoken, charming lad your aunt won't mind chatting up before fixing up a date for you! Dressed in a black sleeveless T-shirt, a la Salman Khan, a French-cut beard — he has grown it for his next film — and gestures that speak of adopted `hep' accent and also of the roots he is an integral part of – Srinagar. Sanjay Suri casts a magnetic spell that helps you see a world beyond the glamour of filmdom, a world where a star is not star, he is a human being full of love, a worthy son of his parents and a star with his feet rooted to the ground. He loves his homeland and longs to stay back. And manages to spare time out of his busy schedule thinking how can he bring peace to his native place.
Sanjay Suri does all that – he is not a star waiting for his moment under the limelight. He is a lovable boy nextdoor, an actor who retains his modesty all the way through, Much like Sanjeev Kumar who was famous for nervousness while enacting a romantic duet or Sohrab Modi, known to have made his heroine his sister off stage before holding her hand as a hero for a film scene assuring her that he would always respect her as his sister despite their romantic appearance on screen.
This man of 33 whose innocent looks belie his age and who made many steal more than glance at Vimal, Wills cigarette and Hero Honda advertisements, was in Delhi to promote his forthcoming "Dil Vil Pyar Vyar" in which he plays a music lover passionate about R.D. Burman, that lively music composer of yesteryears whose tunes had the stamp of his personality.
"It is a true to life portray of a struggling character and there is nothing heroic about him," he says of the film. Three love stories and six characters to make them happen? Where does he find his space in this multi-starrer? "It is not actually the role that matters but the script that binds them beautifully and a lucky chance to sing and dance to R.D. Burman's euphonic beats and a new experiment with a subject that could well be a trendsetter in Bollywood. All this attracted me when Vivek Vaswani narrated me the story."
Doesn't it show the dearth of talent, specially in the realms of music if one needs the support of music from the past? "It can be," he minces no words, adding "but simultaneously it is an experiment in which the songs are not beaten to death by hard rocks like in most new remix music videos, here the sensibility is kept intact. Moreover, if the new generation had not yet been exposed to Panchamda's music, it will help them know him more and cultivate a good taste of music."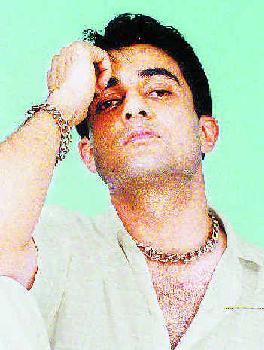 Well, experiment — that he has always done in his film career, from "Pyar Main Kabhi Kabhi" to "Filhaal" most of his directors were new or first-timers like Raj Kaushal, A Muthu, Meghna Gulzar, Sanjey Chhel and Hriday Diwedi and the subjects have been `off-beat'. "Though `Pyar Main… ' was my first film as a second lead and it was promoted as a debut film of Rinki and Dino Morea so I never expected much through this film but I think its treatment was different though not the presentation." But Suri walked away with sympathy as a silent lover and accolades for his acting talents. Reason enough for Kalpana Lajmi to choose him for "Daman" and Meghna Gulzar for "Filhaal".
"Filhaal" was a bit ahead of time – not meant for today's masses but it is very close to my heart." And he has vivid memories of the film. "When Meghna told me that she wanted me to be pitted against Tabu, I asked her twice, `are you sure? She is a seasoned actress.' I wasn't able to believe it," he beams with innocent smile that transforms into a big grin.
And Pritish Nandy has been one to admire his acting skills. So it is his "Jhankar – Beats", a musical comedy he is starring in and "Pinjar", Amrita Pritam's novel directed by Prakash Chandar.
The film talks of pre-partition days when Hindus and Muslims were embroiled in endless violence before ultimately going back to their own societies. Another off-beat film "Insaaf" with Namrata Shirodkar. "It is based on a true story of Bihar where a politician rapes an IAS officer's wife and he goes from pillar to post to get justice in vain. I play the IAS officer here."
Off-beat again? And he laughs heartily at his own choice. "I can't help it. I can't relate myself to other kind of cinema," he tries to control his grin. "Luckily, I am not a victim of herd mentality. So the directors choose me for `different roles' and I thank God for it," he looks up to trace Him.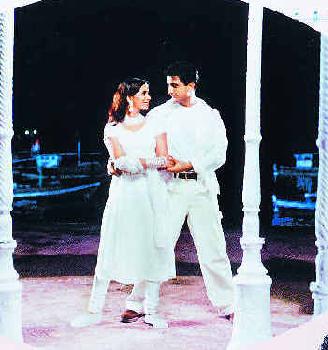 And hold. He enacts different roles as he thinks different too. "I feel passionately inclined to learn about spiritualism. I feel interested to know what is the eternal truth? What is the ultimate purpose of our being here on earth?" And to find his answers he meditates. And cooks. "Oh I am a very good cook. I can cook best of vegetable varieties. Please do come to my place and taste," he warmly welcomes.
Warm as he is, for he has himself been longing for it ever since he, along with his family, had been "literally thrown out of Kashmir in 1991." "We still have land and a factory there. I was doing my graduation then. I never thought of moving out of the beautiful, scenic land that has spoiled me for I now love only mountains and valleys and not polluted cities with no real friends."
"I don't understand what they want? A war for Independence has turned into a melodrama in Kashmir. The Centre has given them Article 356, tax relief, drought, flood relief and subsidised grains. What else they can ask for? Why are they cribbing?" He gets annoyed at the politicians of his place. "Politicians are the biggest actors. They can act without a script unlike us."
He is clearly emotional: "My land is gone now. Nothing can happen there now with the kind of politicians at the helm of affairs. They could not do anything since 1947, Ab kya karenge?" He is upset.
So he had to come to Delhi to have a "platform for a career". "My friends had suggested me to go for modelling." So after completing his degree, he rushed to Delhi to "follow my dreams". Coming his way were ITC Hotels, Rough & Tough jeans as also a travel show `India Holiday' where he anchored 36 episodes for Zee TV along with a job in export house.
In between, this romantic man met "Ambica in Mumbai, courted her for a year-and-half and married her in 1999. She is a girl of my choice. I had no reasons to fall for film people." Confidence, poise, whatever, he has the looks of a winner.
Credits: The Hindu