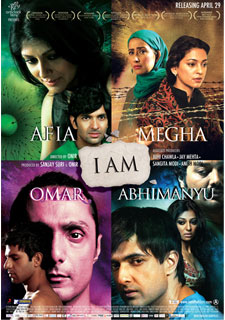 Title : I AM
AFIA MEGHA ABHIMANYU OMAR
Feature/Docu/Short : Feature Film
Based on : Original Screenplay
Languages : Hindi
Locations : Kolkatta / Mumbai / Bangalore / Kashmir
Format : 35mm cinemascope/ Colour
Length : 110 min.
Sound : Dolby
Country : INDIA
Lead Production Company : Anticlock Films
Co production Company : Kahwa Entertainment
Lead Producer : Sanjay Suri & Onir
Writer : Urmi Juvekar, Merle Kroeger & Onir
DOP : Arvind Kannabiran
Director : ONIR
Year of Production : 2009-10
Genre : SOCIAL DRAMA
Logline : I AM is about people with fractured lives held together by unbroken dreams.

Synopsis:
I AM is about issues and dilemmas that bruise the modern Indian society. Unraveling and exploring these tribulations, the film unfolds many a tale of individuals struggling to find their identity, and uphold their dignity in a world that is callous, cold and unsympathetic.
Short in four different cities across India, I AM is a fusion of stories where the protagonists share a common dream – a desire to regain their lives. I AM AFIA is the story of a single woman who wants to experience motherhood. But she is afraid of the ticking clock, and unable to trust or even wait for a man, she decides to find that perfect donor who can give her the perfect child. Her search takes her through the underbelly of desire- desperation. I AM OMAR is a horrific tale of sexual discrimination; blackmail and prejudice is part of the torrid fabric. It reveals how the police use Article 377 (law under Indian Penal code which criminalizes homosexuality) to harass and blackmail gay men. I AM ABHIMANYU is the story of a child sexual abuse survivor. Most unfortunately, according to a survey conducted by the Ministry of Women and Child Development and UNICEF, 53% of children in India are abused. I AM MEGHA, is a story of two friends - a Kashmiri pandit woman and a muslim woman - separated by conflict. Against the backdrop of the ethnic cleansing in Kashmir in the late 80's and early 90's, this story tells of loss of home and identity.
Characters move in and out of the stories, thus linking them in terms of content and structure. In all, I AM is about glimpses into the lives of people who often do not know what's right and very often, do not do the right thing. It is also about human vulnerability and brokenness wherein an inescapable beauty lies.
I AM is born of true life incidents.

Cast Attached:
JUHI CHAWLA, MANISHA KOIRALA, NANDITA DAS, RAHUL BOSE, SANJAY SURI, PURAB KOHLI, ABHIMANYU SINGH, MANAV KAUL, ARJUN MATHUR, SHERNAZ PATEL, RADHIKA APTE, ANURAG BASU and ANURAG KASHYAP
CREW ATTACHED:
Editor : Irene Dhar Malik & Onir
Sound Design : Arun Nambiar
Music : Amit Trivedi, Vivek Philip, Rajiv Bhalla
Production Design : Ambika Suri, Sriram Iyengar & Sujeet Sawant
Styling : Manish Malhotra, Anita Dongre , Aki Narula, Dev R Neel.
Lyrics : Amitabh Varma, Amitabh Battacharya.
Directors Statement
It's an initiative that has been taken to address certain important issues in our society, issues that have otherwise been neglected by the mainstream cinema of the country. I believe that Independent cinema exists to give a voice to those working against the tide and outside the system. As such the vision for this project is to use the medium of films to spread awareness while also popularizing the idea of watching content oriented cinema.
The kind of cinema that is not backed by star power or a big budget, but in fact relies on its strong subject matter and themes. The film therefore will contain storylines about marginalized individuals who are forced to struggle against society.

NATIONAL AWARD WINNER FOR BEST HINDI FILM AND LYRICS
Festivals:
NETPAC Award for the Best in ASIAN CINEMA at the International Film Festival of Kerala '2010
Special Mention by the International Jury at the IFFK '2010
TRIANGLE MEDIA GROUP'S DAVID FLINT HONORARY AWARD for Promoting Human Rights
OFFICIAL SELECTION : Opening Film Engendered IView Film Festival New York, Sept.18th '2010
OFFICIAL SELECTION : VANCOUVER INTERNATIONAL FILM FESTIVAL (Canadian Premier) Oct.'2010
OFFICIAL SELECTION : INTERNATIONAL FILM FESTIVAL OF KERALA'2010 (IN COMPETITION)
OFFICIAL SELECTION : HAMBURG QIFF' 2010
OFFICIAL SELECTION : RIVER TO RIVER FILM FESTIVAL, FLORENCE '2010 (AUDIENCE CHOICE AWARD, BEST FILM)
OFFICIAL SELECTION : CHENNAI INTERNATIONAL FILM FESTIVAL '2010
OFFICIAL SELECTION : GUGGENHEIM BERLIN' 2010
Website : www.iamthefilms.com
...............................................................................................................................................................................................................................................................
Title : SORRY BHAI
Year of Production : 2008
Status : Released Nov'2008
Released in India by : Mahindra's ( Mumbai Mantra)
Feature/Docu/Short : FEATURE FILM
Based on : Original Screenplay
Languages : Hindi
Locations : Mauritius & Mumbai
Format : 35mm Cinemascope / Colour
Length : 120 mins.
Sound : Dolby
Country : INDIA
Production Company : Anticlock Films
Co Producers : Sanjay Suri & Onir
Writer : Ashwini Malik
Music : Gaurav Dayal
DOP : Sachin
Director : ONIR
Genre : Romance / Romantic Comedy
Logline :
Cast: Shabana Azmi, Boman Irani, Sharman Joshi, Chitrangda Singh & Sanjay Suri
Synopsis
Siddharth Mathur(Sid), a shy young scientist, travels to Mauritius for his elder brother Harshvardhan's(Harsh) wedding. Accompanying him is his Ma, a reluctant traveller since she is angry at Harsh for deciding to get married without consulting them. Also travelling is Siddharth's cheery father, whose sole entertainment is pulling Ma's leg.
Harsh, pre-occupied with work, can spend little time with his family and it is left to his fiancée Aaliyah to show them around Mauritius before the wedding. However, Ma's anger at Harsh ensures that she takes an instant dislike for Aaliyah, and it is Aaliyah and Siddharth who end up spending loads of time together. This, added to the fact that Aaliyah feels justifiably neglected by the career-obsessed Harsh, added to the fact that Siddharth and Aaliyah have a common interest – studies, leads to them being irresistibly drawn to each other. Siddharth is horrified. Aaliyah, confused. They try their best to douse these feelings. But they keep coming back with renewed vigour. Soon, all hell breaks loose in the Mathur family…
...............................................................................................................................................................................................................................................................

Title : MY BROTHER ...NIKHIL
Year of Production : 2004-05
Status : Released March 2005
Released in India by : Yash Raj Films

Feature/Docu/Short : FEATURE FILM
Based on : Original Screenplay
Languages : Hindi
Locations : GOA
Format : 35mm Cinemascope / Colour
Length : 120 mins.
Sound : Dolby
Country : INDIA
Production Company : Four Front Films
Lead Producer : Sanjay Suri, Onir, Raj Kaushal & Vinod Tejwani
Music : Vivek Philip
DOP : Arvind Kannabiran
Writer : ONIR
Director : ONIR
Genre : Drama

Synopsis
The film is set in Goa, a small costal state in India in between 1989 and 1994. Nikhil Kapoor is the state all round swimming champion. His father Navin Kapoor has raised his son to be a sports man... a dream that he never achieved for himself. His elder sister Anamika teaches in a primary school and loves him dearly. His mother Anita Rosario Kapoor adores him and from her he inherited his artistic side to his personality.
One fine day Nikhil is arrested. The reason being…. that he is HIV positive. He is kept in forced isolation by law. The Goa public health act allowed the government to isolate HIV positive people. His Parents desert him and his friends move away. The only two people who stand by him are his sister Anamika and boyfriend Nigel.
My brother…NIKHIL is the first main stream Indian film where the main protagonist is Homosexual.
It deals with Nikhil's trauma and his fight for dignity; a film about how a closely knit family falls apart when faced with a crisis; it's about a sister's unconditional love for her brother; it's about a love that withstood social disapproval; a film about a man's desire to achieve something in life and finally it's a film about acceptance.…….

Cast: Sanjay Suri, Juhi Chawla, Victor Banerjee, Lillete Dubey & Purab Kohli.
Website: www.mybrothernikhil.com

Awards & Films Festivals
Frameline 29- San Francisco
Winner Jury Award , Montreal (Image+ Nation film festival)
Winner Audience choice award , Montreal (Image+ Nation film festival)
Winner Audience Choice award 20th Milan International Lesbian & Gay Film Festival -June, 2006)
Winner "The Mobilization and Critical Resistance Award – ICASA 2005 Film- ABUJA, NIGERIA
Winner Audience choice award, Leceister (UK)
Winner Best director at The Saathi Rainbow Film Awards , Kolkatta
Winner Best Actor , at The Saathi Rainbow Film Awards , Purab Kohli ,Kolkatta
WINNER TMG GLOBAL AWARDS 2006 , SANJAY SURI ACTOR/PRODUCER
WINNER TMG GLOBAL AWARDS 2006 , ONIR DIRECTOR/PRODUCER
2nd audience choice award, Hamburg LGBT film festival
2nd audience choice award, Bremen LGBT film festival
18th Vancouver Queer Film Festival (17th -27 August, 2006)
The University of Iowa, USA, April 19th 2006
Miami Gay and Lesbian Film Festival, April 23rd 2006
Brussels Gay and Lesbian Film festival
Museum of Fine Arts, Boston (USA) May 21st, 2006
Reeling Film festival- Chicago
Three Dollar Film festival-Seattle
Cinema Omosessuale in collaboration with the 62nd Venice Film festival
Bollywood and Beyond film festival - Stuttgart, Germany.
Asian Film Festival- New York
Shillong Film Festival (India)
Trivandrum International Film Festival (India)
New York AIDS Film festival
Bangkok World Film festival - OCT 11-23, 2006
Long Island Gay and Lesbian Film fest: Cinema Arts Center, Huntington, NY 10-16 Nov, 2006.
Ljubljana 22 Gay and Lesbian film festival (SLOVENIA) : 2 to 9 December 2006
Bangalore AIDS Film Festival –2005 India
OTHER SCREENINGS
IFFA-Amsterdam
Harvard University ... Boston
Johns Hopkins... Washington Dc
Lyolla University... Chicago
UNAIDS- Shanghai
UNAIDS -Delhi
Tata Institute of Social Science - Mumbai
Indian Embassy- Berlin
Asia Society- New York
Pocatello, Idaho- Canada
Reelout Film Festival : Kingston, Ontario- Canada – Dec 2006
23rd International Love Film Festival of Mons – Brussels ,Belgium – 9th to 16th Feb 2007